Contact Us
For more information about the Center for Gamma-Ray Imaging or if you are interested in more information about establishing a Collaborative or Service Project:
Telephone:  (520) 626-7848  (8am-5pm MST)
Fax: (520) 626-2892
or via email: Merry Warner, CGRI Program Manager:  warnerm@email.arizona.edu
Mailing Address
Center for Gamma-Ray Imaging
University of Arizona Department of Medical Imaging
P.O. Box 245067
Tucson, Arizona 85724-5067
Map
Interactive UA Map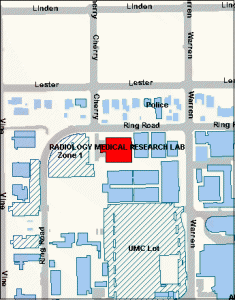 From Speedway & Campbell, go north on Campbell until you reach the light at
the intersection of Campbell and Elm.
Turn left on Elm St. and turn right at the next stop sign
You are now on Ring Road. Proceed thru the first stop sign until you reach our building on the left as indicated in red on the map.