WiO hosts the STEM mixer 2015
WiO hosted the first women in STEM mixer on october 28th. It was attended by a couple of clubs from University of Arizona :
Women in Physics
Women in Optics
Tucson Women in Astronomy
LPL Women
Women in Science and  Engineering
Society of Women  Engineers
Women in Civil Engineering
Women in Natural Sciences
Women in Engineering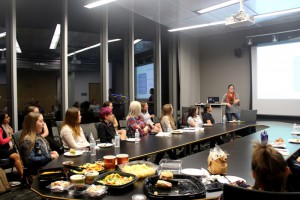 This introductory event brought together all the women in STEM groups of University of Arizona for some general discussions in an attempt for some useful collaborations. WISE has already taken the first step and listed us out as its official partners on its webpage.(http://wise.arizona.edu/partners). Many more events and collaborations await us.
Way to go ladies !!