Laser Fun Day 2018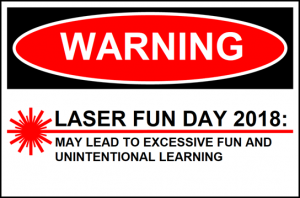 Laser Fun Day 2018 is on April 7th, from 10 AM to 3 PM in the Meinel Building, which is at 1630 East University Boulevard on the UA campus. Admission is free and open to the public.
We're extremely excited to host our 8th Annual Laser Fun Day! For images from the last two Laser Fun Days, see below.
The overwhelmingly popular Laser Maze returns yet again to delight participants. Exhibits include a 6-foot-long kaleidoscope, laser radios, solar telescopes, an infrared camera, and a lot more, all of which illustrate different applications and properties of light. Come see the new exhibits we have for this year! We hope to see you there.
This Laser Fun Day was made possible through grants from our generous sponsors.
Sign up here to be a volunteer! All volunteers will receive a Laser Fun Day shirt, pizza, and Eegees.
If you have any questions, please contact us at outreach@optics.arizona.edu
If you would like to download pictures from the Long Exposure photographs station, please click here.
See the slideshow below for images from Laser Fun Day 2017.
See the slideshow below for images from Laser Fun Day 2016.