In Memoriam
JOHN E. GREIVENKAMP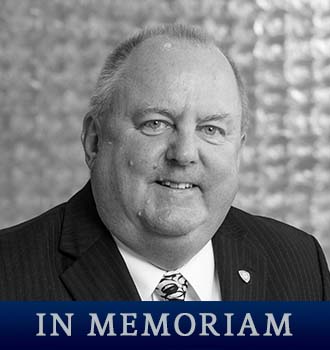 Dr. John E. Greivenkamp, Emeritus Professor of Optical Sciences, passed away on January 29, 2022 after valiantly prevailing in his battle with cancer for many years.
John was an exceptionally committed member of our faculty and an extraordinary leader, championing the education of our students, the welfare of the college, community outreach, and the future of our profession and professional community.
Born in 1954, John grew up in Cincinnati, Ohio. After graduating from Thomas More College in 1976, John came to study optics at the Optical Sciences Center at the University of Arizona. He received his MS in 1979 and PhD in 1980 under Prof. William Swindell in collaboration with Prof. Harrison Barrett, working on analog optical computing for computed tomography.
John joined Eastman Kodak Co. upon graduation to advance the state of the art in camera technologies, and then returned to OSC in 1991 as an Associate Professor of both Optical Sciences and Ophthalmology, soon becoming a full professor in 1997.
Prof. Greivenkamp was a tremendous contributor to the academic program at OSC, with his teaching including a rigorous geometrical optics course that became one of the cornerstones of our curriculum.
"I first knew John when he was a bright, first-year graduate student. Later, he became one of our most valuable faculty members. John was an excellent teacher and mentor for our students. At OSC, he was always willing to help in any way he could. John was a wonderful person and will be greatly missed," said Jim Wyant, founding Dean and Emeritus Professor of Optical Sciences in the Wyant College of Optical Sciences.
In addition to his remarkable teaching, John supervised 41 MS and 20 PhD students in his extensive research in sub-Nyquist interferometry, conformal optics, ophthalmic optics and contact lens metrology. John's research with his students resulted in over 170 publications and presentations garnering over 4,500 citations, a vibrant partnership with industry, and over 20 patents. John's publications included his very popular, "Field Guide to Geometrical Optics" published by SPIE.
"John was a mentor, a colleague, and most importantly a friend.  We shared much of the ups and downs of his treatments over the years, further solidifying our connection.  He was passionate about the College and upholding our long tradition of excellence in optical engineering. We will continue to strive to meet his expectations," said Prof. Jim Schwiegerling, holder of the Robert R. Shannon Endowed Chair in Optical Sciences and one of John's star PhD students at OSC.
John was highly honored by his peers, including being elected as Fellow of both Optica (formerly OSA) and SPIE, and receiving the prestigious Maria J. Yzuel SPIE Educator Award in 2017. In addition to extensive board and committee leadership roles for both Optica and SPIE, John was elected to lead SPIE by the society's 19,000-member peer community.
CEO of SPIE Kent Rochford reflected, "John was a longtime supporter, advocate, and leader for SPIE, serving as our 2020 President and retiring from the Board of Directors just two months ago as Past-President.  His deep involvement in SPIE and our community touched thousands.  I will miss John's counsel, and his friendship."
John was also deeply committed to outreach at the college, especially with his efforts to build the OSC Museum of Optics which houses hundreds of antique and historic telescopes, microscopes, lenses and cameras, representing work by the world's most respected instrument makers from the 18th century to the present.
 "John was a remarkable contributor to our mission in every possible dimension, and he was taken from us well before his time. Our deepest sympathy and condolences go to his family, and also to his many friends and colleagues around the globe. We will all miss him tremendously," said Thomas Koch, Dean of the Wyant College of Optical Sciences.
In 2012 the John E. Greivenkamp Endowed Scholarship in Optical Sciences was established at OSC, providing support to promising undergraduate students pursuing an education in optics and photonics.
John's family has requested that those wishing to make donations in memory of John direct their gifts to his endowed scholarship fund by contacting Kaye Rowan, Executive Director of Development at the college, at Rowan@optics.arizona.edu