Optical Sciences Winter School & Workshop 2023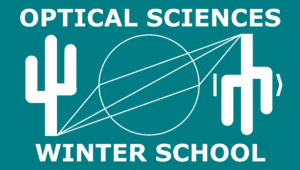 The Wyant College of Optical Sciences at the University of Arizona is proud to once again host the annual Optical Sciences Winter School & Workshop January 4-7 2023. This year we are excited to be back to a live in-person event! Optical Science and Engineering are areas of growing importance that are too often missing from traditional undergraduate science and engineering curricula. Often, aspects of optics & photonics are picked up as side topics in undergraduate and graduate courses along the way to obtaining more traditional STEM degrees. The 2023 Optical Sciences Winter School will bring together a select group of undergraduate students for an overview of foundational topics in optics and their relation to current research. The subsequent 2023 Optical Sciences Winter Workshop will provide a forum for faculty, alumni, and invited guests to share results, approaches and methodologies in optics and photonics research and education that are unique to the undergraduate setting.
UPDATES:
See you in 2024 for the next Winter School and Workshop!

2023 Keynote speakers including Nobel laureate Donna Strickland and PI for the NIRCam on the James Webb Space Telescope Dr. Marcia Rieke!