Optical Sciences Winter School 2022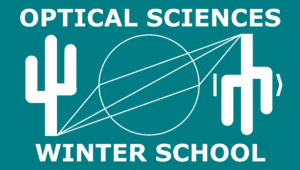 The College of Optical Sciences at the University of Arizona is proud to once again host the annual Optical Sciences Winter School January 5-7 2022. This year we are planning an entirely online event. Optical Science and Engineering are areas of growing importance that are too often missing from traditional undergraduate science and engineering curricula. Often, aspects of optics & photonics are picked up as side topics in undergraduate and graduate courses along the way to obtaining more traditional STEM degrees. The 2022 Optical Sciences Winter School will bring together a select group of undergraduate students for an overview of foundational topics in optics and their relation to current research. The event will provide a forum for both faculty and students to share results, approaches and methodologies in optics and photonics research and education that are unique to the undergraduate setting.
UPDATES:
The 2022 schedule is finalized for January 5-7, 2022. Please click here to view the schedule.

Applications are closed for this year. If you want to apply for a future year, please check back in Fall 2022
Student award winners:
Congratulations to our winners for best student presentation: Makayla Schmidt (1st place) and Brennan Luetke and Casey Scoggins (2nd place tie). And congratulations to our winner for best questions during the presentations: Paul McKinney.