Working Remotely
If the need arises that you need to work remotely there are a few way ways to access the resources of the College of Optical Sciences. Please make sure you visit the UITS working remotely site for more options.
https://it.arizona.edu/working-remotely
Optical Science Email:
College of Optical Sciences email can be accessed by logging into the following webpage with your OSC credentials:
http://webmail.optics.arizona.edu
Desktop Computer Access:
To access your desktop computer remotely you will need to ensure it is powered on and that you know the full computer name before leaving.
To find the computer name:
Right click on the Start button
In the pop-up menu, click on System
You will also need the U of A VPN client installed on the computer you are using to access your work computer remotely. You can find out how to download and install the VPN here:
https://it.arizona.edu/service/ua-virtual-private-network-vpn
Once connected to the VPN client you will need to start remote desktop.
Click the bottom-left Start button to display the menu, expand All apps, open Windows Accessories and tap Remote Desktop Connection. You can also search for Remote Desktop.

Type in the full computer name (don't forget the optics.arizona.edu)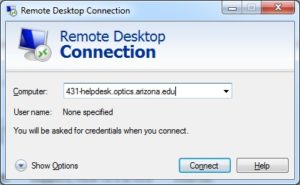 Click connect and you will be prompted to use and account. Type in your full OSC email address for the username and your OSC password.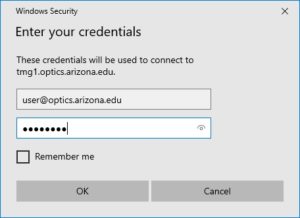 If you run into any issues you can reach out to the OSC Helpdesk at helpdesk@optics.arizona.edu or (520) 621-8838.