People
Principal Investigator
PhD Students
Andrew D. Rocha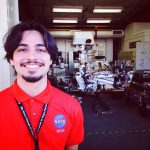 Andy is a second-year graduate student aiding in the development of novel freeform optics metrology technologies with the goal of measuring >1 mm departure from best-fit reference surface freeform optics. His career goals are to work in the fields of optical design, metrology, and to apply for NASA's Astronaut Candidate Program upon earning his MS. He completed two undergraduate summer internships at NASA Glenn Research Center for metrology of primary and secondary composite mirrors for a deep space lasercom optical assembly. After the B.S. He interned at MIT Lincoln Laboratory to help set up an optical test station for a space lasercom optical assembly, perform FRED stray light modeling and baffle design of super-resolution multi-aperture imaging achromatic diamond-turned lenslet arrays. Last summer, he interned at UTC Aerospace to design and perform stray light analysis of internal baffle set for a Dall-Kirkham collimator in FRED.
Allison Browar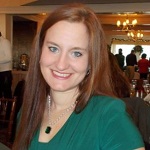 Interests
Additive manufacturing, optical fabrication, optics, laser manufacturing, optical tweezers
Biography
I was born and raised in Utica, New York. In 2010 I received a bachelor of science in Physics from the Rochester Institute of Technology. Following my bachelors, I worked for a laser manufacturing company on Long Island where I built solid state lasers in the IR, Visible and UV spectrum. I also worked on quality control of incoming optics and built various sub-assemblies. In 2013 I started graduate school at the University of Rochester pursuing a Ph.D. in Mechanical Engineering. During the summer of 2015, I interned at Lawrence Livermore National Laboratory building a massively parallel optical tweezers system for additive manufacturing. I am currently collaborating with LLNL to research holography and mass manufacturing of micro-scale objects using optical tweezers.
Research
Using optical tweezers for additive manufacturing
Martin Tangari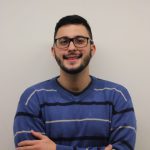 Interests
Freeform Optics, Lens Design
Biography
I was born and raised in Montevideo, Uruguay. In 2012, I emigrated to the US to pursue my bachelor's degree at Loyola Marymount University in Los Angeles. I graduated with a BSE in Mechanical Engineering and a BS in Physics, both Magna cum Laude in 2016. I interned at Tribogenics, a start up in Silicon Beach, that is developing a handheld XRF device for metal alloy identification. My undergraduate research focused on the design and construction of a Fourier Transform Spectrometer. This experience inspired me to pursue a career in optics/metrology. In 2016, I started my PhD at the University of Rochester, where I am currently working on the development of an instrument to accurately measure freeform optical surfaces as part of the Center for Freeform Optics.
Eric A. Reichel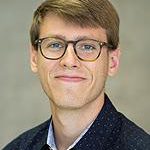 Interests
Optics, Photoacoustics, Biomedical Imaging.
Biography
I began my academic career at Whitworth University pursuing a bachelor's degree in physics. Upon Graduating in the spring of 2016, I worked for a year as an optical lab technician before beginning University of Arizona's College of Optical Science's doctoral program. I now working for Dr. Jonathan Ellis in the Precision instrumentation group, while collaborating with Dr. Russel Witte and his Experimental Ultrasound and Neural Imaging Laboratory. My research focuses on photoacoustics for medical imaging, with an emphasis on optomechanics and lens design.
Research
Photoacoustics for cancer detection.
Kaitlin Wozniak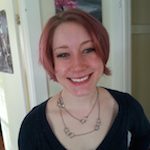 Interests
Laser-material Interactions, Laser Systems, Metrology
Biography
I was raised near Pittsburgh, PA and attended Allegheny College in Meadville, PA. I received my B.S. in Physics with a specialty in Astrophysics in 2011. I made the Dean's list all four years and graduated Magna Cum Laude. My undergraduate thesis, "An Investigation of the Effects of Different Azo-Dyes on Azimuthal Gliding of Dye-Doped Nematic Liquid Crystals" was awarded best senior thesis in the sciences. After graduation, I worked in Budapest, Hungary, supervising three undergraduate students on an NSF grant for foreign collaboration in the field of liquid crystals. Working in Hungary's national science facility, KFKI, I synthesized new derivatives of an azobenzene dye and studied their effects in optically addressed twisted nematic liquid crystal devices.
In 2012 I began my PhD work in the Institute of Optics at the University of Rochester. I joined Dr. Steve Jacob's group at the Laboratory for Laser Energetics and began work on developing an all-optical liquid crystal spatial light modulator for high-peak power laser systems. Recently, I have joined Dr. Ellis' Precision Instrumentation Group to aid in the advancement of the IRIS project. My primary research interests are laser-material interactions, polarization, and laser systems.
Yanqi Zhang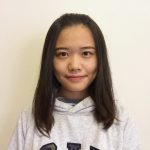 Yanqi earned her master's degree in 2018 from the Institute of Optics, University of Rochester. Her master's thesis emphasizes on building a dual-wavelength interferometer system for freeform surface measurements and developing chromatic calibration algorithms for multi-wavelength systems. After graduation, she joined the College of Optical Sciences as a PhD student, working on freeform surface metrology project. Her research interests are metrology, optical design and optomechanical engineering.
MS Students
Pengzhuo Wang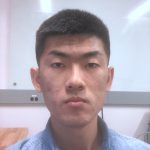 Pengzhuo is a second-year graduate student who has interest in Optical Engineering. He is currently working on Laser Machining project using high power CO2 laser and fast scanning galvano system. The final goals are polishing of optical glasses within small time scale and high accuracy. Upon getting his MS degree, he plans to apply for a PhD program and working in a similar field. Pengzhuo completed his undergraduate study in Dalian Institution of Technology major on Optoelectronic Information Science and Engineering, which gave him backgrounds in Physics, optical science and electrical engineering. During his senior year in undergraduate, he had an internship in Dalian Institute of Chemical Physics, Chinese Academy of Science.
Nathan Esham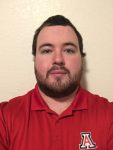 Nathan is a second-year Master's student with a focus in Optical Engineering. He graduated from the University of Arizona in 2017 with an B.S. degree in Optical Engineering and continued his education at the College of Optical Sciences in pursuit of a M.S. degree. He plans to finish his M.S. degree and move into the private sector pursuing a career in optical design and testing. His current work is modeling, designing, building, and testing an illumination device using FRED, LightTools, and SOLIDWORKs.
Rebecca Whitsitt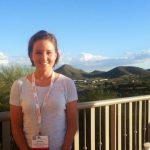 Rebecca graduated from University of Central Florida in 2015 with a BS in Mechanical Engineering. At UCF, she worked as an undergraduate research assistant in CREOL's Glass Processing and Characterization Lab, now the Optical Materials Lab. For the subsequent three years she was employed at Optimax Systems, Inc. in Rochester, New York, as an R&D engineer working primarily with optical coatings and contamination control for DUV-transmissive materials. In 2018, she began her MS degree in Optical Sciences at University of Arizona and joined the Precision Instrumentation Group. Her current research interest is in biomedical photoacoustic imaging, and she has joined a collaboration with the Experimental Ultrasound and Neural Imaging Laboratory under PI Russell Witte, Ph.D. While at University of Arizona she plans to specialize in optomechanical engineering.
Undergraduate Students
Graduate Alumni
Yang Zhao, PhD
Michael Echter, PhD
Ethan D. Burnham-Fay, PhD
Daniel R. Brooks, PhD
Steven R. Gillmer, PhD
Xiangzhi Yu, PhD
Tim Lynch
Sam Butler
Michael Ricci
Rachel Bieransinski
Richard Smith
Fenghe Zhong
Undergraduate Alumni
Loudon Blake
David DeLong
Samantha Echaves
Elizabeth Fox
William (Bill) Green
Andrew Keene
Joseph Lanphear
Koji Muto
Adalberto Perez
Emersyn Pullan
Christopher Roll
Jane Thompson
Isaac Trumper
Christopher Wong
Visiting Scholars & Students
Minhao Zhu
Xiaofeng Wang
Qun Wei, PhD
Tieli Zhang, PhD